April 24 is a well-known date to Jerry Kroninger. It is, sadly, the anniversary date of his father's death. It is also the date of joy to him. It marks the wedding anniversary date with his lovely wife, Cathy. It also is the date remembering the birth of his sons, born three years apart on this same date. Now it has yet another, possibly the most important remembrance: it is the date of his new Life in Jesus Christ – his baptism.
Jerry was raised the son of a pastor, brother to a pastor, father to a pastor, and yet his eyes and ears were not opened to understand the Truth of the Word until about a year ago.
A Spirit of unrest dwelled within him, so he prayed. He asked God to show him the path that he should walk. As always, our faithful God led him to His Truth in the Scriptures. A Bible study group was made available to Jerry where he learned a new Way to see the Word of God.
With all his years of training and study, he did not fully understand God's plan for him until his eyes and ears were opened. Now he embraces a new life with Christ and is excited to begin anew.
Jerry Kroninger is only 76 years old! See the pictures below of the baptism.
By Sue Bosh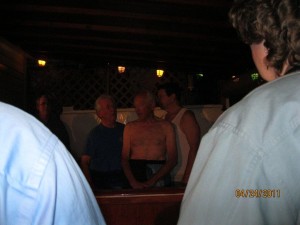 Do you believe in Jesus Christ?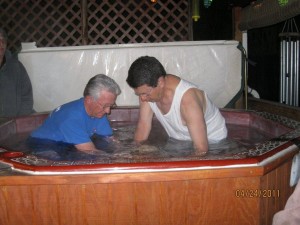 Being buried!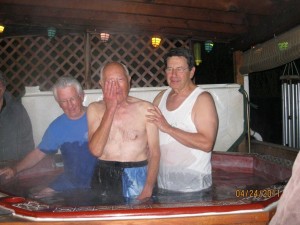 Rising from the dead!
Subscribe to this Site

Click on the following link to add the Sharing the Way feed to your web account:

Click on the following link to add the Sharing the Way website to your on-line web account such as facebook or myspace:



For More Information please Email us at info@sharingtheway.com or phone us at
720-346-4033


---

Christian Fellowship Locations

Monday Night Bible Study: [This Bible Study alternates between the homes of Tom and Rose Gleason, and Todd and Megan Kack every Monday. Please call the phone numbers below to determine which location we are meeting at for that Monday night's Bible Study.]


Location #1: Tom and Rose Gleason's home
Address: 7339 S. Mt. Holy Cross, Littleton, CO 80127, Map
Time: Begins at 6PM
Phone: 303-229-7776
Email: rgleason24@msn.com


Location #2: Todd and Megan Kack's home Address: 11236 W Coal Mine Dr., Littleton, CO 80127, Map
Time: Begins at 6PM
Phone: 303-906-2883
Email: mkack27@hotmail.com


Wednesday Night Bible Study:


Location: Gary and Tammy Abeyta's home
Address: 2829 Meade St. Denver, CO 80211, Map
Time: 6:30pm
Phone: 720-791-7117


Thursday Night Bible Study (Women's Bible Study):


Location: Krystal Captain's home
Address: 4361 S. Braun Ct., Morrison, CO 80465, Map
Time: Begins at 6:30pm
Phone: (Rose Gleason) 303-229-7776
Email: (Rose Gleason) rgleason24@msn.com


Friday Afternoon Lunch/Bible Study:


Location: Bob and Sue Bosh's home
Address: 1385 S. Seneca Ct., Denver, CO 80223 Map
Time: Free lunch provided at noon; Bible study typically begins at 12:45
Phone: 303-692-9641
Email: siouxbea@aol.com a>