The Great Earthquake
On

November 26, 2011

·

In

Christian, Christian Growth, Church, Church Leaders, Church System, Churchianity, End Times, Faith, Inspiration, Instruction, Ryan Watts, Suffer, Suffering for Christ, The Walk
THE GREAT EARTHQUAKE
(The shifting of our current paradigm of comfort and luxury Christianity to the End-times real authentic, faithful, outrageous, courageous, and radical, Jesus Freak Christianity)
By Ryan and Jill Watts
April 16-May 25, 2011
Dear Church,
During this time of remembrance of God's loving sacrifice of His son Jesus with the celebrations of EASTER just past us, we, Ryan and Jill Watts, have an urgent message to present to God's people.  Our prayer is that we as God's people will take heed to the times that we are presently living.  We know that this may be common knowledge and well documented throughout the bible, yet we feel that this message is URGENT and very CRITICAL to proclaim.  We know there is a spiritual revival going on in the church today and in collaboration with this, we present this letter, knowing that many great things are happening throughout God's church.  This is not a letter of condemnation or judgment in any way, rather a letter to encourage more and more LOVE reaching out into the world.  We have sent this to several churches and are not singling out your church and this letter may have things enclosed that simply does not apply to your situation, we apologize for that beforehand.  Please prayerfully consider what God would be asking of you and your congregation. Thanks for your time.
Hebrews 10:24-25 And let us consider how we may spur one another on towards love and good deeds.  Let us not give up the meeting together, as some are in the habit of doing, but let us encourage one another–and all the more as you see the Day approaching.
We have been faced with questions and conclusions that are fairly distressing subjects that we feel personally responsible to share with those that we respect and love, you.  We must warn you, if you read on, you will be challenged to the full measure of God's call for your life, your purpose and current lifestyle.
We began this letter last year when we arrived in Denver.  It has caused us many sleepless nights seeking out God's heart through prayer.  It is not easy to finally share this labor of love with you as well as the responsibility that comes along with difficult choices of ACTION.  We share this truly with love and urgency for action.  We leave it up to you to pray and respond to God and His will for your life.  Thank you for dedicating your life to Christ and being so willing and open to what He has placed before you.  You hold a huge responsibility as a follower and we know that you do not hold it lightly, as you are a true follower of our God and Lord, Jesus Christ.  Please read on with an open heart and mind and take into serious consideration what God may be leading you to do.  Let's pray…
Dear Lord, we praise You for Your love and grace.  Thank You for dying on the cross so that we may know the depth of Your love for us and how You desire intimacy with us.  We know we are hardly worthy of all that You have done for us.  We know that we are Your chosen people and that You have called us to proclaim and preach the good news to all of the world.  Your hearts desire is that we all will share Your desire regarding that none should parish but that all may come to know You and experience eternal life.  We know that we are responsible to live out the will You have for our lives.  May we continue to seek out our purpose and fulfill all that You have planned.  We are desperate for all of You to dwell within all of us so that we may be equipped to carry out Your call for our lives.  We desire nothing less than Your best for each of us and we pray that Your Spirit will overflow from us into this lost and hurting world.  Please, God, rain down on us.  We pray an overwhelming thirst for our souls to be satisfied only by You and the fulfilling of Your purposes of reaching out to the lost as we grow closer to You.  Help us all to realize that we will never fully quench this thirst until You come and take us home and all who are to come to You have COME.  Lord, we know You are coming soon.  Help us to be ready and working towards filling up heaven with Your kingdom when You arrive to take us.  Let no one parish within our reach on our behalf.  Please, God, help us love with Your love, see through Your eyes, reach with Your arms, walk with Your feet and live by Your faith.  Lord, let us not grow weary of seeking out opportunities for reaching the lost until we are present with You in all of Your glory and meet you face to face.  We love You Lord and we know that You loved us while we were yet lost sinners.  Lord we pray all this for Your people and all the world, thank you for using us Lord.  Jesus, in Your name we pray, AMEN…
THE GREAT EARTHQUAKE
(The shifting of our current paradigm of comfort and luxury Christianity to the End-times real authentic, faithful, outrageous, courageous, and radical, Jesus Freak Christianity)
As we look around today, we are probably right to assume that we are in the Last Days.  Therefore, we are inclined to seek and ask God, ourselves and all other Christians, one question,
The Question:
"What are our responsibilities to God and others in these current times?" We have prayed, pondered and studied on this question for the past 11 years, ever since we found the truth of the love of Jesus and made Him the personal ruler of our lives. 
Our Calling
"What are our responsibilities to God and others in these current times?"  The answer has come to us in phases as we personally have been seeking God's call on our lives.  As we are currently seeking God's heart and will for our lives we know that our calling requires us to be willing and able to support our family financially as well as minister the Love of God to the world.
We know from experience of being lost sinners that non-believers will always look at our lives and see the world's ways or Jesus' ways strongly expressed in our lives.  We also know that as we become leaders of God's flock through our call to ministry, we must be willing to examine and evaluate our responsibilities as leaders and decide if we can be willing to collect money in support of modest salaries in the midst of these current world tribulations.  We know that we have been called to lead small missions and ministries throughout various populations including, homeless, prisoners, addicts, just to name a few, and that we must accomplish this without burdening anyone for monetary support for our families basic needs.  We know that we must carefully examine what people see from the outside when they look into our life.
A Brief Glimpse of Our History
We have moved around a lot and have had the privilege and opportunity to see God working in a variety of different areas and churches.  Thanks for being a part of it, as we have worshiped and served with you once or several times throughout our journey.
We found the realness of God's love from shepherd's who used their own home as their church building and refused to dip into the offerings to supply their needs.  They never asked for offerings, they simply had a box in the back for those who were led to give.  When people came to them in need, whatever was in the box and their wallets was used toward meeting the needs and there was always plenty to fulfill the needs.  They were Chaplains for Utah State Prison and also for Utah County Jail, They held worship, prayer, Bible study and fellowship and shared meals one to two times per week.  This was an amazing time of intimacy and growing with Jesus.  Talk about being spoon fed as new members of God's family.  WOW does not even begin to describe this experience.  We have found nothing comparable to this type of love and fellowship of this magnitude since fellowshipping with this wonderful loving couple.  Thank you, Jesus, for Prayer Mountain Ministry and Eagle's Nest Fellowship of Utah.
Having come out of the cult, the LDS-The Church of Jesus Christ of Latter Day Saints or Mormon Church of Utah, and Jill being a great niece of Brigham Young, we know that Pastors salaries are a huge controversial issue and spectacle used to coerce Christians into becoming LDS or other beliefs and also for debating the newly Born-again believers and trying to persuade them that they have made a wrong choice.
Particularly, Jill's own mother agrees that Christianity is a good way yet remains a member of the LDS Church due to the fact that many Christian pastors collect a salary.  Jill's aunt is a new Born-Again and struggling daily to witness to LDS family, friends, neighbors, and her community who question the same thing and with little success.
We do not want, and strongly refuse, to have any part of the debate.  One that may prevent even one lost soul from coming into the true knowledge of Jesus Christ and experiencing the ultimate joy, peace and eternal life that can only be fulfilled through sharing a personal relationship with Jesus.  We cannot bear having that kind of blood on our hands.  Yet, we find that we ARE a part of it because we call ourselves Christian and we each are viewed by the ACTIONS and CHOICES of us all.  And they'll know we are Christians by our LOVE.
We recognized that this is a huge sacrifice and is not coming easy to us.  However, we know we have a huge responsibility to God and to our lost family and friends and their salvation is far more important than anything else.  We realize we are disclosing a difficult challenge to all Christians and few will take the challenge, however we plead for the blood of those we all know who are perishing.
Our Responsibility
We all know that it is our responsibility to share the truth and use our lives to demonstrate God's unconditional love to our lost friends, family, neighbors, city and to the rest of the world.  That is, wherever God calls us.  However, we watch daily as those around us are dying unsaved, suffering the consequences of their sins, being entangled with false beliefs, unfulfilled and wandering around this earth waiting to see pure Christianity.  With one thing against us, Pastors collecting such high salaries while those around them are suffering and sacrificing to pay their tithe to the church to further the kingdom.  This practice is not a clear demonstration of Jesus' sacrificial love and the world can see it, some Christians can see it, and some pastors can see it.  Yet some of us do not quite see it this way.  The responsibility falls on us all.
The Stumbling Block
This stumbling block is a HUGE elephant in the middle of the Christian Church that is carefully tip-toes around and never fully addressed.  We have Buddhist friends who have come close to accepting the truth, yet they have chosen to ignore our plea for their souls with the frustrations they express regarding this issue.  It does not make sense to them or us for that matter.  In their perspective, the fact that leaders are compensated for their services to the Church, contradicts the life and the love of Jesus.
Jesus said in Mark 4:3-20, "Harken, Behold, there went out a sower to sow:  And it came to pass, as he sowed, some fell by the way side, and the fowls of the air came and devoured it up…" And He explains it in Mark 4:14 "The sower soweth the word.  And these are they by the way side, where the word is sown; but when they have heard, Satan cometh immediately, and taketh away the word that was sown in their hearts…"
Satan Uses Good Works
We as Christian are straggling further and further behind the efforts of such false doctrines and religions as each day goes by.  We must be URGENT and deliberate about our goals and vision for the lost world around us.  We must SEEK out every opportunity that we can find to share the truth of Jesus' unconditional love.  The enemy will use every religion, self-help guru, and scientology, mind/body/spirit theology that looks or feels even a bit like the truth to entrap those that we miss into such lies as he does with the help of great people in the LDS Church.  (We are not condemning the LDS church at all)
By no means do we regret coming to the truth of Jesus and out of the darkness of being lost in a dead religion.  We just know the depths of the deceit and the generations of secrets held in good sounding, helping religions that appeals to those seeking for truth and their claims to hold the keys to life.  The sad fact is, they do not come close to knowing the real Jesus.  It is so scary to us to know that Satan uses very good deeds of great hearted people to deceive so many people that we care about.  It really tears us apart.
The Denver Post just announced a new LDS temple construction going up in Fort Collins to support the growing population of members in the area.  If you are unfamiliar with the LDS practices, from the outside looking in, they are very moral and righteous in their teachings and have several great attributes including missions and outreach where 500+ new missionaries are dispersed each month to 160 different countries as well as having 14 million members worldwide.  They offer social services to those in need such as, employment for the disadvantaged, clothing, housing and rent assistance, job seeking services, food, companionship to the elderly and homebound, and emergency storehouses.
A new LDS church is built for every so many new residences.  One huge area of visible sacrifice they make is that their leadership is not compensated by monetary contributions of any kind.  They have jobs outside their church responsibilities to fulfill their financial needs as well as fulfilling their duties of church leadership as volunteers.  We can learn a lot from them in that aspect.
A recent article republished in the Denver Post May 15, 2011, from the Washington Post titled "The Great White Way to the White House" explains how a popular cartoon South Park character, Stan, is LDS and is quoted saying "Maybe us Mormons do believe in crazy stories that make absolutely no sense, and maybe Joseph Smith did make it all up. But I have a great life and a great family, and I have the Book of Mormon to thank for that.  The truth is, I don't care if Joseph Smith made it all up, because what the church teaches now is loving your family, being nice and helping people."  There are two candidates, Mitt Romney and Jon Huntsman, for 2012 presidency that are LDS and the article ends by concluding "Latter-day Saints (LDS) have proven good neighbors, citizens and politicians.  It's time to admit them to that well-populated club of people whose religion is not our own and even seems fantastical (virgin birth, predestination or infant damnation anyone?), but who are deemed perfectly acceptable presidential candidates." Written by Kathleen Flake, a professor of American religious history at Vanderbilt University, is author of "The Politics of American Religious Identity."
This very religion appears to hold keys to the anti-christ, being able to deceive even the elect if that were possible, (Matt 24:24 For there shall arise false Christs, and false prophets, and shall show great signs and wonders; insomuch that, if it were possible, they shall deceive the very elect & Mark 13:22) and the next U.S. President will very possibly be from the LDS Church.
False and new age religions are everywhere we look.  They are becoming the norm and people are accepting of these things because they teach and practice good morals or good health.
Satan Does Not Stop There
Not only the LDS but the Jehovah's Witness, Buddhist, Christian Science, Muslim, Daoism, New Age movements, Yoga, almost every religion, and non-believers have those who volunteer, participate in helping other people, and seek to show people acceptance of one form or another.  Yoga, a form of worship, is being used for fund raising for the Gathering Place here in Denver, a cancer support group.  (See NEWSPAPER CLIPPING "A TREE POSE IN THE PARK)  Satan will continually use GOOD DEEDS to lure in good people from every walk of life.  We must wake up and look around.  If we are missing the opportunities, Satan will definitely snatch them up before we realize it.
(See NEWSPAPER CLIPPING "ANTI-SOCIAL NETWORK) Note the first paragraph: "Paul Ceglia's favorite quotation listed on Facebook reads, "Seek and you shall be rewarded."  Sounds like Jesus, but it's Madame Zora, a spooky fortune teller who divines at TheWhatBox.com" by Al Lewis of Al's Emporium of the Denver Post Sunday, April 17, 2011.
Many people seeking for truth look past Jesus based on our Christian practice of compensation for carrying out God's work that goes far beyond that of meeting our daily needs.
We Must Seek Out The Lost As Jesus Did
We must seek out the lost, and show our faith by what we do.  James 2:14-19 What doth it profit, my brethren, though a man say he hath faith, and have not works? Can faith save him?  If a brother of sister be naked and destitute of daily food, And one of you say unto them, Depart in peace, be ye warmed and filled; notwithstanding ye give them not those things which are needful to the body; what doth it profit?  Even so faith, if it hath not works is dead, being alone.  Yea, a man may say Thou hast faith, and I have works: show me thy faith without works, and I will show thee my faith by my works.
We are not only called to those who do not proclaim to follow a god, but we must be willing to seek out the lost in other forms of religions and to do so we must eliminate any possible obstacles in the way.  1 Timothy 3:7 Moveover he must have a good report of them which are without (Referring to the non-believer); lest he fall into reproach and the snare of the devil. We can only accomplish this as we continue to grow and look and walk as Jesus did and taught us to do.
People are Perishing
Hardships during these End-times will draw more and more people to seek after the truth.  We must be willing to look more and more like Jesus.  We cannot stand by and watch them fall into the traps of a false Jesus or find their false sense of peace in a god substitute.  It is our responsibility to address and eliminate any such hindrances especially this one.  Leadership salaries.  Do we want them to find their hope in the false religions of our times?  Can we live with that?  We cannot!  It is really, not for us to say who can and cannot collect a salary and by no means is that our intention.  We must simply present the fact, that it IS a stumbling block to those who may be seeking out the truth and people ARE stumbling on our behalf.  This issue STANDS between so many people and God.  How can we not face this square in the eyes, turn to Jesus and pray that He will show us how to be obedient and trust Him to provide our daily manna.
2 Timothy 2:10 Therefore I endure all things for the elect's sake that they may obtain the salvation which is in Christ Jesus with eternal glory.
Sacrificial Love
We are living in hard times and need to consider the impact that the economy and these end-times have on the church and the world.  We come closer to the end as things occur, such as the gas prices going up, people continuing to be without adequate work, shortages of food due to less exports from Japan, possible water shortages, frequent wars breaking out, massive deadly earthquakes becoming more frequent, deadly tornadoes, gigantic tsunamis engulfing large communities into the ocean.
We MUST trust God to provide all that we need (not want), as well as consider our goals of ministry and outreach and our current priorities with our personal and church spending habits.  We MUST look at each expense and carefully weigh it against our goals for furthering God's kingdom and how it affects all of us who pay tithing and the lost world.  As a church, we are entrusted with God's money to use it wisely.  We must seriously stop now and think about how today's spending will help or hinder our goals of carrying out God's will for these current times.  He has promised us eternal life, to bless us abundantly, to provide all of our needs.  What more can we ask for?  He supplies for the birds.
Faith of Provision: He Supplies All That We Need
Luke 12:22-27 And he said unto his disciples, "Therefore I say unto you, Take no thought for your life, what ye shall eat; neither for the body, what ye shall put on.  The life is more than meat, and the body is more than raiment.  Consider the ravens: for they neither sow nor reap; which neither have storehouse nor barn; and God feedeth them: how much more are ye better than the fowls? 28-33  If then God so clothe the grass which is today in the field and tomorrow is cast into the oven; how much more will be clothe you, O ye of little faith?  And seek not ye what ye shall eat, or what ye shall drink, neither be ye of doubtful mind.  For all these things do the nations of the world seek after: and your Father knoweth that ye have need of these things.  But rather seek ye first the kingdom of God; and all these things shall be added unto you.  Fear not, little flock; for it is your Father's good pleasure to give you the kingdom (all the people out there waiting to hear of and see God's love) Sell that ye have, and give alms; provide yourselves bags which wax not old, a treasure in the heavens that faileth not, where no thief approacheth, neither moth corrupteth. 36 And ye yourselves like unto men that wait for their lord, when he will return from the wedding; that when he cometh and knocketh, they may open unto him immediately. 42-48 And the Lord said, "Who then is that faithful and wise steward, whom his lord shall make ruler over his household, to give them their portion of meat in due season?  Blessed is that servant, whom his lord when he cometh shall find him doing.  Of a truth I say unto you, that he will make him ruler over all that he hath.  But and if that servant say in his heart, My lord delayeth his coming; and shall begin to beat the menservants and maidens, and eat and drink, and to be drunken;  The lord of that servant will come in a day when he looketh not for him, and at an hour when he is not aware, and will cut him in sunder, and will appoint him his portion with the unbelievers.  And that servant, which knew his lord's will, and prepared not himself, neither did according to his will, shall be beaten with many stripes. (This is a heavy responsibility for all us believers to do God's will of bringing about His harvest.)  But he that knew not, and did commit things worthy of stripes, shall be beaten with few stripes.  For unto whomsoever much is given, of him shall be much required: and to whom men have committed much, of him they will ask the more.
Luke 12:24 Consider the ravens: for they neither sow nor reap; which neither have storehouse nor barn; and Good feedeth them: how much more are ye better than the fowls?
WAKE UP!!! JESUS IS COMING whether we are doing our part or not!  People will serve something!  God or the counterfeits.  Hopefully we can shift this quick enough.  In time to save this current lost and desperate generation!
URGENT:  WE CANNOT STAND BY ANOTHER DAY, LETTING EVEN ONE PERSON TRIP ON OUR BEHALF!!
The Way to Jesus
He does care for us.  So why is it so hard for us to forsake the ways of this world, including the American Dream, nice home, cars, luxuries and vacation trips, luxurious church buildings and décor, celebrations and outward appearance?  It is sad to say that we value these THINGS more than the PEOPLE that God has called us to reach.  Lost people are not concerned about the way a church looks from the outside, we are!  They are concerned about how GOD LOVES and they see and feel that LOVE through how WE LOVE them.  What are we to do then?  How do we follow the ways of Jesus?  One rich young ruler asked Jesus the same question…  Matthew 19:21 Jesus said unto him, "If thou wilt be perfect, go and sell that thou hast, and give to the poor, and thou shalt have treasure in heaven: and come and follow me.
Trust Him
Do we trust God for our daily needs or do we defend our current income to meet our daily needs as well as our worldly luxuries?  What can we cut out?  How can we turn it around and remove expenses such as housing allowance and instead live in a parsonage?  We can utilize excess food from the food bank to fulfill our food needs for events as well as for personal use.  All of our needs can and should be met from within the church, eliminating the need for large leadership salaries and allowances.
The Example for Today's Pastors (SACRIFICE)
Acts 20:25-35 And now, behold, I know that ye all, among whom I have gone preaching the kingdom of God, shall see my face no more.  Wherefore I take you to record this day, that I am pure from the blood of all men.  For I have not shunned to declare unto you all the counsel of God.  Take heed therefore unto yourselves, and to all the flock over the which the Holy Ghost have made you overseers, to feed the church of God, which he hath purchased with his own blood.  For I know this, that after my departing shall grievous wolves enter in among you, not sparing the flock.  Also of your own selves shall men arise speaking perverse things, to draw away disciples after them.  Therefore watch, and remember, that by the space of three years I ceased not to warn every one night and day with tears.  And now brethren, I commend you to God, and to the word of his grace, which is able to build you up, and to give you an inheritance among all them which are sanctified.  I have coveted no man's silver, or gold, or apparel.  Yes, ye yourselves know, what these hands have ministered unto my necessities, and to them that were with me.  I have showed you all things, how that so laboring ye ought to support the weak, and to remember the words of the Lord Jesus, how he said, "It is blessed to givethan to receive."
We know that 1 Timothy 5:17 says, "Let the elders that rule well be counted worthy of double honor, especially they who labor in the word and doctrine."  Meaning that 40+ hours are put into the word of God and in fulfilling the duties of the Body of Christ that come with the title of Pastor, Bishop, Servant, Preacher, Teacher, and Steward as outlined in the Pastoral Epistles.
Pastoral Epistles
Instructions to Pastors found in 1 Timothy and  Titus (AD 61-63) for Ephesus and Crete for adjustment and correction. Thought to be Paul's advice for Timothy and Titus in the faith, determined to advise others at the same time. Avoid heresy, hold to sound doctrine, maintain purity, and piety of life.  Purposed to admonish, instruct, and direct the recipients in their pastoral duties.  Church organization, to guard the faith and to appoint qualified officials, to conduct proper worship, to maintain discipline both personally and in the churches and moral purity of Christians should be overcome. (1986 Nelson's Illustrated Bible Dictionary p. 803)
1 Timothy 5:18- For the scripture saith, THOU SHALT NOT MUZZLE THE OX THAT TREADETH OUT THE CORN. And, "The laborer is worthy of his reward." Yet, we can still look to God to supply all our needs and allow the money that goes to supply everything else be used to further God's kingdom.
God is Able
Because this writer (probably Paul) was willing to work and support his necessities, the ministry of his hands reached farther.  God looked after his needs and provided him with the ability to work hard AND fulfill his duties as a teacher of the word and fully share the love and sacrifice of Jesus' life without having anything stand in the way of people coming to Jesus and his hands were clean of the blood of all men.
Matthew 6:19 Lay not up for yourselves treasures upon earth, where moth and rust doth corrupt, and where thieves break through and steal.
Love and Faith
Only in this way of sacrifice, can we fully demonstrate by example our faith and trust in God in a way that translates Jesus' love and sacrifice to draw others close to Him in these trying times and accomplishing  the necessary results that please God.  The SACRIFICIAL LOVE and ACTION FAITH that is necessary to demonstrate to the lost and hurting how to fully surrender and trust God with their whole life.
The Leadership Responsibilities
Are we willing to hold our duties up to an evaluation of God's standards?  Do we meet up to the requirements set out before us?  Can we really justify our current hourly wage based on even the world's standards?  By no means is God pleased with His current Christian leadership collecting outrageous amounts of His money in order to fulfill leadership roles.  Priests were given an ordinance and first fruits as compensation for them fulfilling tedious rituals and performing bloody sacrifices and then cleaning it all up to do it again.  Can we honestly stand up and say that this is God's blessings upon his current leaders, when those around us are perishing because we have few resources to assist them and for outreach and missions?
Good Stewards
When it comes down to it, we must be a good steward with God's money.  There are church expenses that we can reduce or eliminate.  We encourage everyone to take a look at the church budget and put in their input as to how God's money must be handled.  We must shift our focus to the current times.  Every time a purchase is made, we must run it by God.  If we can't afford something with our current tithe income, then we do not need it.  God will provide for His will to be fulfilled.
The fact is that our operating expenses can be reduced by reducing the spending done from the inside, salaries, reusing materials year after year, using washable dishes instead of disposable.  The list is endless.
Are we doing the right things with our money?  Are we spending wisely?  Are there areas for cutting back?  Can we offer discounts to those who need it for studies, other activities that help us grow in relationship with Jesus?
We must be willing to lay down our life for Christ and for others, even strangers.  We are all called to take up our cross and follow Jesus.  Do we fully understand the meaning of sacrifice or what it means to suffer?  We have food on the table, a roof over our head, usually gas in the car.  When it comes down to dinnertime, we can choose what we want to eat.  We do not know what it is to be cold.  We do not know what it is to truly suffer.  We cannot imagine going a few days without eating.  We may know it to some degree and we may know someone, maybe our neighbors have needs that we can meet.
Is every purchase necessary or can it be done a different way?  Instead of purchasing items for a party or event we could ask everyone to bring a dish or snack to share?  There are ways to save money and pass on the savings to our yearly budget and lessen the burden from the church budget.
Take the current expense of the church a Pastor Salary for example:
Current Monthly If downsized to 18% + cut
Salary               $1,453.58         $1,137.25
Housing           $2,666.66         $1,000  for a two bedroom apt near the church
Med Ins            $116.66             $95.66   Try medishare or something less
Pension            $666.66            $416.66
Auto                  $333.33            $273.33  Buy a used car for 3,280
Professional   $166.66 $136.66
$5,403.55        $3059.56
That averages about $36,714.72/year = $17.34/hr after the 18% cut.  The church can save $2,343.99/month and $28,127.88 each year to be used for outreach and other ministries.
What kinds of ministries will God fulfill with that money freed up?  Could more be cut to do more?  If a parsonage is not available or being used in the church, we could build or purchase a home for the church to house a pastor which could save a large amount of money and provide the basic needs of the pastor while he is serving the church.  This is the type of things we must seriously consider now for the years to come.
We must seriously trust God for our daily needs and not defend our current leadership income to meet more than daily needs such as our worldly luxuries?
We cannot sit back and spend our resources on trivial pursuits and then leave little or nothing to offer for those who ask and further the kingdom through outreach.  Let the food bank supplement our food, and a clothing bank clothe us.  What more could we ask for?  People get saved…
The Needs Inside the Body
1 Jn 3:17 But whoso hath this world's good, and seeth his brother have need, and shutteth up his bowels of compassion from him, how dwelleth the love of God in him?
We can look around us and clearly see that some are without their basic needs.  We must practice bringing together all that we have.  Yes we pay tithe and this is what we are talking about.  But how much of our tithe is being currently used to meet the needs of those without?  How much of our tithe is being used for things well beyond the needs of our leadership?  Is this Biblical?
Share and Give
We MUST be able as a church to give to those who ask by stretching our budget in order to meet some of these needs and not forget about the numbers of those outside the church.
1 Tim 6:3-19  If any man teach otherwise, and consent not (does not agree with teachings that are sound) to wholesome words, even the words of our Lord Jesus Christ, and to the doctrine which is according to godliness;  He is proud, knowing nothing, but doting about questions and strife, railing, evil surmisings, Perverse disputings of men of corrupt minds and destitute of the truth, supposing that gain is godliness; from such withdraw thyself.  But godliness with contentment is great gain.  For we brought nothing into this world, and it is certain we can carry nothing out.  And having food and raiment let us be therewith content.  But they that will be rich fall into temptation and a snare, and into many foolish and hurtful lusts, which drown men in destruction and perdition.  For the love of money is the root of all evil; which while some coveted after, and pierced themselves through with many sorrows.  But thou, O man of God, flee these things; and follow after righteousness, godliness, faith, love, patience, meekness.  Fight the good fight of faith, lay hold on eternal life, whereunto thou art also called, and hast professed a good profession before many witnesses.  I give thee charge in the sight of God, who quickeneth all things, and before Christ Jesus, who before Pontius Pilate witnessed a good confession;  That thou keep this commandment without spot, unrebukable, until the appearing of the Lord Jesus Christ; Which in his times he shall show, who is the blessed and only Potentate, the King of kings, and Lord of lords; Who only hath immortaility, dwelling in the light which no man can approach unto; whom no man hath seen , nor can see; to whom be honor and power everlasting. Amen.  Charge them that are rich in this world, that they be not highminded, nor trust in uncertain riches, but in the living God, who giveth us richly all things to enjoy.  That they do good, that they be rich in good works, ready to distribute; willing to communicate (willing to be generous in sharing and liberal in giving).  Laying up store for them selves a good foundation against the time to come, that they may lay hold on eternal life. (also Matt 6:25-33)
This clearly states that our needs be only food and clothing and everything else is excess.   
Luke 12:15 And he said unto them, "Take heed, and beware of covetousness: for a man's life consisteth not in the abundance of the things which he possesseth."
Luke 6:38 "Give and it shall be given unto you; good measure, pressed down and shaken together, and running over, shall men give into your bosom.  For with the same measure that ye mete withal it shall be measured to you again."
Abundance
We would then be more than able to balance the budget and have plenty to give to all who ask from within the church and those outside and support missions and outreach to their full capacity and further fulfill the Great Commission.
Jesus died for us and rose again from the dead.  Are we not alive because of Him?  Do we live out each day to share that with those who will otherwise be left for Satan to devour?  We cannot stand on the sidelines watching those around us that we care about parish.  We must take action.  ALL OF US!!!
Our food ministries would have more than plenty if we truly taught and practiced the ways of the Acts church.  If we truly thought about it and encourage everyone to bring all our food money to the food banks or even half of it, the cupboards would multiply 10-fold.  Not sure if the food bank could supply enough food, but bet God could.  That could be an awesome experience to experiment with for 1-2 months and a great challenge for the congregation.  Everyone would have plenty, we might have to eat differently but, God would bless it for sure.  There would be plenty to go around the neighborhoods.
Moving Mountains
The mountains in the world are waiting to come down.  How about taking on the huge mountain blocking the path to the truth for thousands of people seeking to know the truth of God but stand staring up at the huge obstacle and instead look to another path.  That mountain is in fact the pastoral salaries.  We can discontinue the claim for the Arronic priesthood ordinance that states clearly the compensation for the duties preformed in the temple and ignore the impediment placed before many seeking to know the truth of Jesus' love and sacrifice.
We can choose to deny our belief that we are worthy of double honor and we can choose to lead a life of sacrifice and faith that God will provide for us even more than monetarily if we choose to remove this barrier for those seeking who cannot otherwise look past the fact that we pay our leaders to serve and live out their calling of God.
That would be the GREAT EARTHQUAKE that would shake the mountains and clear the way for all to come to the knowledge of Him who loves us all and none should parish.
People Perishing
However, unfortunately, some have already heard the gospel, seen the unsacraficial love of the some Christians and turned another way never to return.  We cannot stand by this any longer.  We as Christians must be willing to repent for the sin of greed and lack of faith and be willing to bear up the burdens of the lost.  We must be willing to turn from our mistakes and show the world that we care more for them than we do for our own financial security…
Hard stuff to bear!  It is very difficult to share this in LOVE.  We know that all of us cannot clearly see this as a necessity and urgent at that.  Some will see it and ignore it a while longer.  The facts are that, daily, the harvest is ripe, people are seeking and looking towards Christians to show them the fullness of God's love only to stumble across this and other things such as cold-welcomes, people too busy to get to know them on Sunday mornings.  Christians too busy playing church to notice the needs around them.  Christians claiming to LOVE GOD yet ignoring that if we LOVE GOD and allow Him to dwell in us, His LOVE will show through to the WHOLE WORLD…
Step Out in Faith
We must be willing to step out on faith and trust God to provide all that we need to accomplish His will and purpose for the church.  Currently, everyone is strapped, budgets are being stretched, state and federal programs are being cut from existence, and social service funding is being exhausted beyond sustainability.  We are the Church and we are called to pick up the slack if not obligated to replace the current welfare system.  No one is to be in need in the church.  If the body has all that it needs, we will be better equipped to have more to share with those in need.
Acts Church
Acts 4:32 And the multitude of them that believed were of one heart and of one soul: neither said any of them that aught of the things which he possessed was his own; but they had all things in common.
If we can come to the understanding that all of our needs can be met within the church, we would be able to take all the abundance and distribute it to our neighbors and lost community at a rate that only God can accomplish with the miracles of multiplication as he did with the little boys lunch.  2 loaves and five fish and everyone had their fill and they collected 12 baskets in the Sermon on the Mount
The illustration that Jesus is making about putting all our resources together and sharing with one another is applicable and relevant for today.  We must refuse to stay caught up in the capitalistic society and stop "worrying about what we will eat or drink." then give everything we have towards furthering God's kingdom.  The abundance and miracles can be experienced and realized if we all brought our resources together for His purposes today!
We must be willing to wake up and take action, Jesus is calling us to become more and more like the Acts church, one who will be willing to bring everything that they have together for the purposes of fulfilling all our needs as well as having plenty to spread further for those who are perishing.  Faith is an action and we are to have faith that if we trust and obey His teachings that we shall have all that we need for life and Godliness.  2 Peter 1:3, 4 According as his divine power hath given unto us all things that pertain unto life and godliness, through the knowledge of him that hath called us to glory and virtue.  Whereby are give unto us exceedingly great and precious promises: that by these things ye might be partakers of the divine nature, having escaped the corruption that is in the world through lust.
The Harvest
Please hear God's heart on this matter, people all around us are perishing and we go about our daily lives as normal, worrying about carpet colors and paint hues, flowers and paintings, tile and bathroom accessories.  In an instant it could all be destroyed, leaving the only thing that matters, life and death.  LIFE to those who know JESUS and DEATH to those who do not know Him.  We sit back each night to watch the news with horror of the current distress of the world and the clues that His coming is not far off.  However, we continue living our lives as though our current life is all that matters.  God's perspective is that this life is temporary and if we fail to do our part, we may be the only ones living in eternity with Him.  Didn't we cast out demons in your name?  When He comes for His bride, the church, will he find that our lamps are full and burning or will we be seeking to find oil to fill our lamps when He comes for His bride?  We must be ready and waiting for Him.  Prepared and watching.  We must be willing to spread out the seeds and help labor and bring in the harvest.  If we plant seeds and leave on vacation while it is summer and come back to help with the harvest, we find that the weeds have grown tall and choked out the fruits.  Maybe someone else did the planting, we must be available and go out to the field regularly to take action and bust our backs pulling the weeds.  Proactive faith.
Do Your Part
Get out there!  Wake up!  People are being enticed into believing all sorts of clever doctrines that to some degree, looks a lot better than what God calls the truth.  The general public has taken on the role of helping our communities and volunteering to fulfill social services (See Community Foundations Know Their Local Needs from April's Denver Post).  God is asking the question, "WHERE IS THE CHURCH, MY PEOPLE?"  Luke 9:62 "No one who puts his hand to the plow and looks back is fit for service in the kingdom of God." We must go out into the fields, He sends out 72 men, two by two ahead of him.
Can we see this?  Why do we sometimes look the other way?  Are we fit for service in the kingdom of God?  Is it our government's responsibility to help people?  If we do not do something, someone else will.  That is truth.  Satan will take every lost opportunity we give him and use his schemes to fulfill his plan.
God will bring about people who are willing.  WE MUST ALL BECOME WILLING.  One cannot do the work of many.  Look out into the harvest fields, Luke 10:2-4 "The harvest is plentiful, but the workers are few.  Ask the Lord of the harvest, therefore, to send out workers into his harvest field.  Go!  I am sending you out like lambs among wolves.  Do not take a purse or bag or sandals; and do not greet anyone on the road."
We cannot just wait for the opportunities to find us, we must practice intentional love and go looking for opportunities to help and to love others.  Fertilize, Sow, Harvest.
Luke 6:46 "Whosoever cometh to me and heareth my sayings, and doeth them, I will shop you to who he is like."
Real Life Needs
Would we have any idea how to handle such crisis as has hit Japan?  What about the homeless teenager of drug addicted parents who are unable or willing to provide the basic needs of their day to day lives?  What about the 8 and 10 year old left unattended after school while their parents are working to bring home barely enough money to pay the rent?  Do we ever stop to consider what the single mother of three kids struggling with cancer next door is going through?
Have we ever had to go a day without food so that our kids could have enough to eat?  Have we ever had to give up our bedroom so that my children can have some privacy?  Have we ever had to share the same bathwater as everyone in the family?  Have we ever had to wear dirty clothes because we cannot afford to do laundry?  Have we ever had to walk 3 miles in the snow to get groceries?  Have we ever had to have one of our kids sleep in a closet or the bathtub for lack of room to sleep?  Have we ever had to write a bad check to get groceries?  Have we ever had to sell some belongings for necessities?  Have we ever spent a night without sleep because we had no home to sleep in?  Maybe we can relate to a few of these personally or know someone who has, but in large, we have no clue!
Our Neighbors
God said to love our neighbors.  Do we know what they are going through?  Did Johnny's dad lose his job?  Do they struggle to pay the rent/mortgage?  Do they have heat?
Personal Story
Our sons', Skyler, friend our neighbor was without power, heat, and a way to cook during the cold stretch of the winter months ago for as long as a month.  We didn't realize the depth of their situation until it started to get below -10 degrees.  During this time we had heard about houses flooding due to freezing pipes but never really thought about the severity of the problem.  One day this friend ran over to our house and said, "We need help right now!"  Jill ran over to see what had happened and stepped inside his house onto the drenched carpet that was quickly becoming a lake, his mother is standing in ice cold water scooping up bucketfuls that is pouring out of their wall.  You could see your breath entering the house.  The house was an icebox.  There was water everywhere and they could not shut it off.  The maintenance man was nowhere to be found.  Their whole life was being washed away under water.  Not only was their house flooded to top things off,  but this single mom was struggling to raise her two boys, had recently switched jobs, unable to keep her power bill paid, sleeping in her ice-cold apartment without heat, unable to cook, do dishes, or shower in hot water and she was too embarrassed to ask for help.  She has asked for help in the past and was turned away and didn't know where to turn.  We can all ask ourselves, where was grandma or grandpa?  Does she have anyone to turn to?  The answer is "NO!"  Her sister lives in Aurora, in a small overcrowded trailer.  She couldn't just go stay with them while she tried to get her heat turned back on.  What can we do?  We can't pay her bills, we struggle to pay our own.  So Jill called our church to see if there was help for her, maybe to have a place to stay while the apartment gets cleaned up, only to find that our church has no funds available for such situations.  Even the Red Cross only helps with natural disasters.  Where does one turn when all around them is in shambles?  To God and his people we would hope.  However, we as the church need to be prepared when our neighbors are in need.  Some of you may have been in a situation and hoped that the church could help, only to find that there was no assistance available for you.  The money has been budgeted out to fulfill other, more important obligations.  The Bible says in Matthew 5:42, Give to him that asketh thee, and from him that would borrow of thee turn not thou away." KJV
This is just one example.  We heard of several other floodings that occurred that same week.  Hopefully insurance was available to help.  But in most cases that isn't the situation.
The Good Samaritan
An expert of the law asks Jesus for the key to inheriting eternal life, Jesus replies in Luke 10:27 "Love the Lord your God with all your heart and with all your soul and with all your strength and with all your mind, and Love your neighbor as yourself." Now we can all agree on how to love God, but we struggle with the loving the neighbor part.  This man makes it easier for us by asking, "And who is my neighbor?" In the next part of the chapter, Jesus has the opportunity to show us who our neighbor is and HOW TO LOVE THEM…  This is being revealed to us.  So, we all know that there is a guy who is traveling to Jericho, he gets robbed, stripped of his clothes, beaten and then left to die.
Sound familiar?  If you or someone you know has ever fallen into the traps of Satan then this is how one feels when all is said and done.  The story goes on.  We all know that the priest happened by and he deliberately passes by the man on the other side of the road.  Then, the Levite saw him and also passed by on the other side of the road.
How many times have we walked by or driven passed someone who is crying out for help each day?  Help is found in Jesus alone.  God will provide what we need to assist us and them.  Sometimes we are too busy or uncomfortable to approach someone in such a distressed position.  Do we really know how to show God's LOVE to our NEIGHBOR?  Sometimes we are inconvenienced by the conviction and compassion that we may feel and try to ignore the call that God is speaking out to us.  We are all called to share the LOVE of God to our neighbor.
We are disturbed by our inability to look one into the eyes and try to meet their needs, bandage some emotional wounds, and house the person broken and beat down by the circumstances in the current world around us.  Why do we walk on by?  Why are we ignoring the loud call in our life?  Are we too busy with family, work, or church?  Too scared to trust God for His guidance and provisions?  Whatever the questions may be, isn't God bigger?  Maybe we serve God in other ways.  We pay our tithing and the church can do the rest.
Reach Out
As we continue to grow in God's word, invest in God's kingdom building through tithing, and go to church to fellowship and encourage each another, are we all reaching for the same thing we are called to reach for?
God will continually provide for all our needs as we continue to sow abundantly into the harvest field.  We must trust Him to meet all our needs in order to fulfill this ministry He has called us to.  As we continue to work the Harvest He will provide for the purposes He has ordained.
Sow
2 Corinthians 9:6-15 But this I say, He which soweth sparingly shall reap also sparingly; and he which soweth bountifully shall reap also bountifully.  Every man according as he purposeth in his heart, so let him give; not grudgingly, or of necessity: for God loveth a cheerful giver.  And God is able to make all grace abound toward you; that ye, always having all sufficiency in all things, may abound to every good work: (As it is writen, HE HATH DISPERSED ABROAD; HE HATH GIVEN NTO THE POOR: HIS RIGHTEOUSNESS REMAINETH FOR EVER.  Now he that ministereth seed to the sower both minister bread for your food, and multiply your seed sown, and increase the fruits of your righteousness;)  Being enriched in every thing to all bountifulness, which causeth through us thanksgiving to God.  For the administration of this service not only supplieth the want of the saints, but is abundant also by many thanksgiving unto God;  While by the experiment of this ministration they glorify God for your professed subjection into the gospel of Christ, and for your liberal distribution unto them, and unto all men;  And by their prayer for you, which long after you for the exceeding grace of God in you.  Thanks be unto God for his unspeakable gift.
Bear Fruit
It must not take two to three years for fruit to bear!!!  It only takes a season.  Luke 13:6-9 He spake also this parable; "A certain man had a fig tree planted in his vineyard; and he came a sought fruit thereon, and found none.  Then said he unto the dresser of the vineyard, Behold, these three years I come seeking fruit on this fig tree, and find none: cut it down; why cumbereth it the ground?  And he answering said unto him, Lord, let it alone this year also, till I shall dig about it, and dung it:  And if it bear fruit, well: and if not, then after that thou shall cut it down.
Jesus said that the harvest was ready during His lifetime, it must be fully ripe and ready now. Let us harvest it now before it turns rotten.  We must quit hiding within the security of our salaries, the walls of our homes, churches, and cars and go out into the world for the harvest is ready.  We must be 100% willing and trust God for the rest!
We Are Christ to The World
We are the church.  We are the body, hand and feet of Christ.  How can we show love and bandage the wounds of the world?  We can cloth the man with battered clothing, provide shelter for the weary traveler, reach the lonely addict, assist the teen mother, visit the elderly, sick and imprisoned.  We can do whatever God made us to do and share our own life experiences to show God's love to the dying world.
What is it that God has called you to do?  Step up and voice it.  Gather up a group of even two of you and do it.  Talk to the Pastor about bringing it to life.  Let God move the mountains.  Trust God with the details
Maybe you feel that you have nothing to offer people.  What about JESUS?  The answer is JESUS, You have something to offer and it is ONLY JESUS.  If all you have is Jesus, then you must share Jesus with people.  How?
How can you meet the needs of the man on the road to Jericho?  Does a weary traveler need rest and clothing?  Or maybe just a bus ticket to a place where he can reunite with distant family members.  Maybe he just needs a friend to talk to.  What is Jesus asking of us?  What did He lead us to do?  Did Jesus say, stay in church and grow only?  No, He said drink milk at first to grow, then move on to the meaty, TOUGH, not so easily digestible foods, and chew (requiring action and some teeth).  But if you're like us, you like meat tenderized and not so difficult.  But Jesus convicts us daily on this.  The burden is heavy… Pick up your cross and follow Jesus…
What better time then now?  In this unstable economy, we can point people towards the way to stability in the love of God.  Wow!  This has been an exciting yet heavy revelation.
A Cry for Help
We cannot forsake the urgency and ignore the crying out of people like ourselves who would still be lost if it weren't for the Love of God that was shown to us by people reaching out into the world with Jesus' shepherd staff in hand.
People all around us are begging for help.  Unfortunately, we sometimes turn them away because we are busy or we have nothing to give to them who ask.  God's word tells us to give to everyone who asks. How do we apply this to Christians today?  God still provides for us our daily manna as he did in the wilderness.  Do we believe that God will supply all of our needs?  Do we live according to our beliefs?
LIVE OUT LOUD-  Wake the neighbors, Get the word out….Crank up the music, MOVE A MOUNTAIN AND SHOUT… (Words may be wrong but the concept is real)
Obey God
We cannot just preach the word, we must live it. We cannot just listen to the word, we must live it out.  Quit living a ritualistic Christian life.  Be radical and GO otherwise it is hypocrisy!!!  Don't forsake the gathering of the saints-gather together daily in your families and small groups to pray, then go together and break bread with the lost and do what it is that God has told you to do.  We must quit practicing a religion.
This is not business as usual.  WE MUST practice a relationship with Jesus, trusting Him to provide all the provisions for life, and we must reach out to others at the same time.
I know that the church has several opportunities to serve the community and really share God's love through hands and feet.  Can we do more?  Can we sacrifice a meal or two a week and fast and pray at the same time taking what is saved and putting it towards opening a homeless shelter in the Denver area along with other Christians in this area?  Can we take one night out of the week, skip a bible study, and gather a group of volunteers to assist in the construction of the shelter or visiting a lonely senior, prisoner, one in the hospital, you name it?
We are all called to be Jesus to the world.  What does He look like?  What did he do?  He not only came to save US but the whole world is out there, outside the church walls waiting to see Jesus and He even gave Himself as an example to follow.
Heb 10:24 And let us consider how we may spur one another on towards love and good deeds.
Please take to heart that for many of those we call brothers and sisters, neighbors, target outreach populations, and the lost will continue to struggle to meet their daily need.  As a church we ought to consider how we may lighten the burden of such things and be able to offer them much more than what they come to us with, simply Jesus.  We are striving to be such a church with such extensions as the food ministry we are moving in the right direction at full speed.
1 Cor 12:27 Now you are the body of Christ, and each one of you is part of it.  An in the church God has appointed first of all apostles, second prophets, third teachers, then workers of miracles, also those having gifts of healing, those able to help others, those with gifts of administration, and those speaking in different kinds of tongues.
This is a part of a growing momentum of His outpouring Spirit before Jesus comes for His ultimate healing harvest.  In Jesus' name, amen.  Thank you for being an active part of God's love.
We trust that you will pray on God's words and test them and we urge you to share this letter with other Christians who you feel led to do so by God.  Please let us know how God is working in your life.
Lovingly in Christ,
Ryan and Jill Watts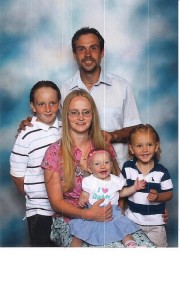 The Watts Family
Ryan and Jill
Skyler – 10
Casey – 3
Karlee – 1
Full Garden Ministries
PO Box 260858
Lakewood, CO 80226
(720)447-8050
References
Nelson's King James Study Bible, 1988.
Nelson's Illustrated Bible Dictionary 1986
Denver Post April and May Editions
Please feel free to reproduce, reprint and/or forward as desired. Altering or editing is strictly prohibited. To contact us, send a request to info@sharingtheway.com or visit our website at https://sharingtheway.com/. Using an article for any form of advertising is strictly prohibited.
Subscribe to this Site

Click on the following link to add the Sharing the Way feed to your web account:

Click on the following link to add the Sharing the Way website to your on-line web account such as facebook or myspace:



For More Information please Email us at info@sharingtheway.com or phone us at
720-346-4033


---

Christian Fellowship Locations

Monday Night Bible Study: [This Bible Study alternates between the homes of Tom and Rose Gleason, and Todd and Megan Kack every Monday. Please call the phone numbers below to determine which location we are meeting at for that Monday night's Bible Study.]


Location #1: Tom and Rose Gleason's home
Address: 7339 S. Mt. Holy Cross, Littleton, CO 80127, Map
Time: Begins at 6PM
Phone: 303-229-7776
Email: rgleason24@msn.com


Location #2: Todd and Megan Kack's home Address: 11236 W Coal Mine Dr., Littleton, CO 80127, Map
Time: Begins at 6PM
Phone: 303-906-2883
Email: mkack27@hotmail.com


Wednesday Night Bible Study:


Location: Gary and Tammy Abeyta's home
Address: 2829 Meade St. Denver, CO 80211, Map
Time: 6:30pm
Phone: 720-791-7117


Thursday Night Bible Study (Women's Bible Study):


Location: Krystal Captain's home
Address: 4361 S. Braun Ct., Morrison, CO 80465, Map
Time: Begins at 6:30pm
Phone: (Rose Gleason) 303-229-7776
Email: (Rose Gleason) rgleason24@msn.com


Friday Afternoon Lunch/Bible Study:


Location: Bob and Sue Bosh's home
Address: 1385 S. Seneca Ct., Denver, CO 80223 Map
Time: Free lunch provided at noon; Bible study typically begins at 12:45
Phone: 303-692-9641
Email: siouxbea@aol.com a>